This customer story focuses on LaPorte Law Firm, a family practice with 40 years of experience specializing in Social Security Disability law. Founded by industry veteran Terry LaPorte, the firm has built up a solid reputation in the Bay Area, California, and is recognized as one of the leading firms in the field. 
Being a family-owned business, they have always been incredibly customer focused, largely relying on their reputation for helping customers as opposed to using flashy sales pitches other larger firms often resort to. Similar to most law firms, they also lacked internal marketing resources. As such, they had to navigate the process of marketing a law firm with a very unique and complex target audience on their own or had to rely on external marketing agencies, which is not ideal for various reasons. Leaving your marketing in the hands of an external resource that likely lacks industry-specific expertise and understanding of your target audience can often be an expensive undertaking with variable results at best. Most importantly, it's not a long-term solution, as the moment you stop paying, the leads dry up.  
This customer story gives you an idea of what happens when a reputable family-owned business lacking internal marketing resources and strategies hires a fractional CMO. It covers all stages of the process, including identification of the main problems, a three-step plan, and the outcomes. LaPorte Law Firm's fractional CMO is Sofiane Morouche from the Growth Connect network.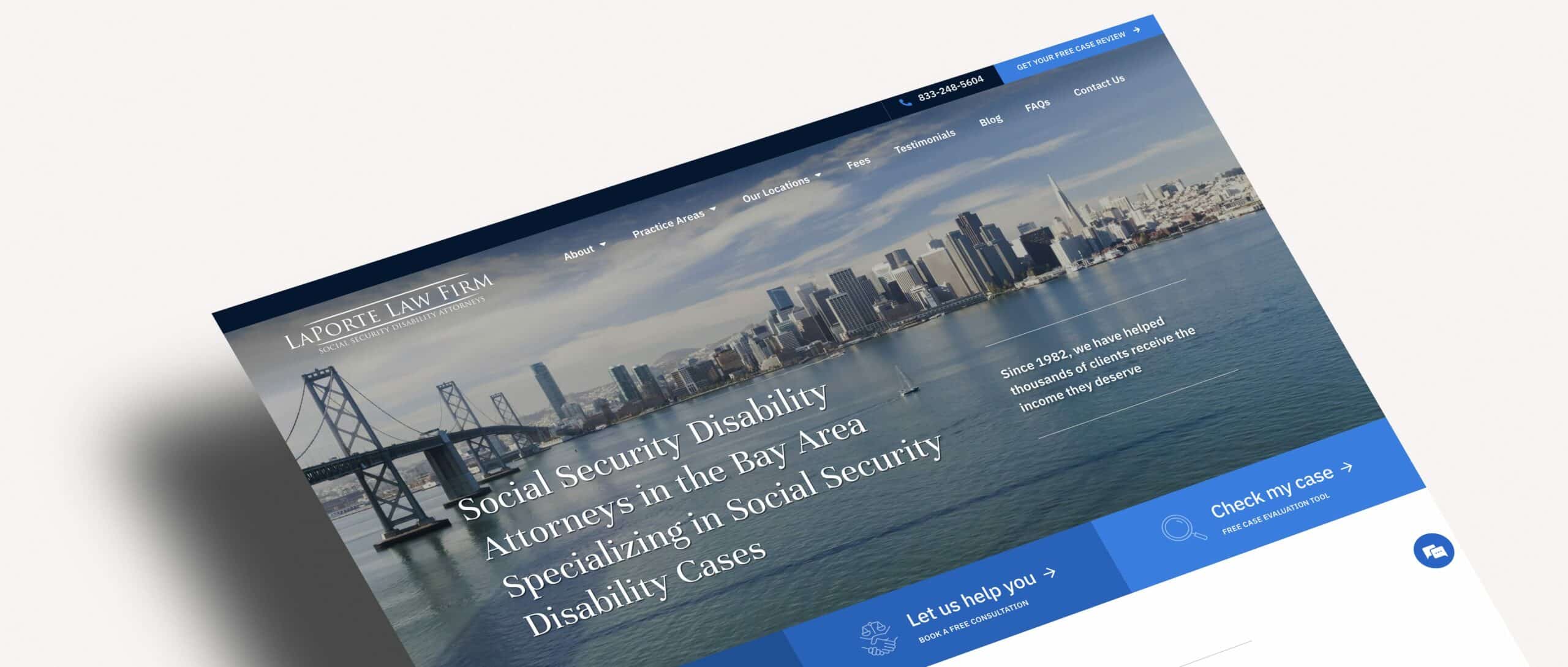 With over 40 years in the industry, Terry LaPorte and his team had become used to doing things a certain way. As a small family firm with a high focus on their clients, they were devoting most of their time to their cases; however, they did recognize the need for marketing, spending vast sums on external marketing assistance. Lacking the internal know-how, they accepted help from several agencies offering lead generation and marketing services, only to use the portals for a few months and forget about them soon after without following up on the results. Stuck in this cycle, they were spending unknown amounts on marketing and had no idea what their return on investment was. Without clear marketing goals or strategies in place and no marketing leader to direct them, LaPorte Law Firm was flying blind. They also had an old, outdated website that had potential but was in serious need of being fleshed out in order to serve as a useful resource that could benefit their current clients and attract more prospective clients.
Recognizing the need for a clear marketing strategy but lacking marketing leadership and expertise, attorney Kevin LaPorte reached out to Sofiane Morouche, a Fractional CMO at Growth Connect, who helped LaPorte Law Firm build up and optimize its marketing in three phases: reviewing and redefining the strategy through a marketing blueprint; redeveloping the website and boosting the SEO; and implementing the strategy through targeted inbound marketing campaigns. Each of these phases is covered below.
Kevin was very enthusiastic about marketing his firm to his audience but just hadn't found the right partner until now. Instead of working with a marketing leader, he'd been working with external marketing vendors offering short-term solutions.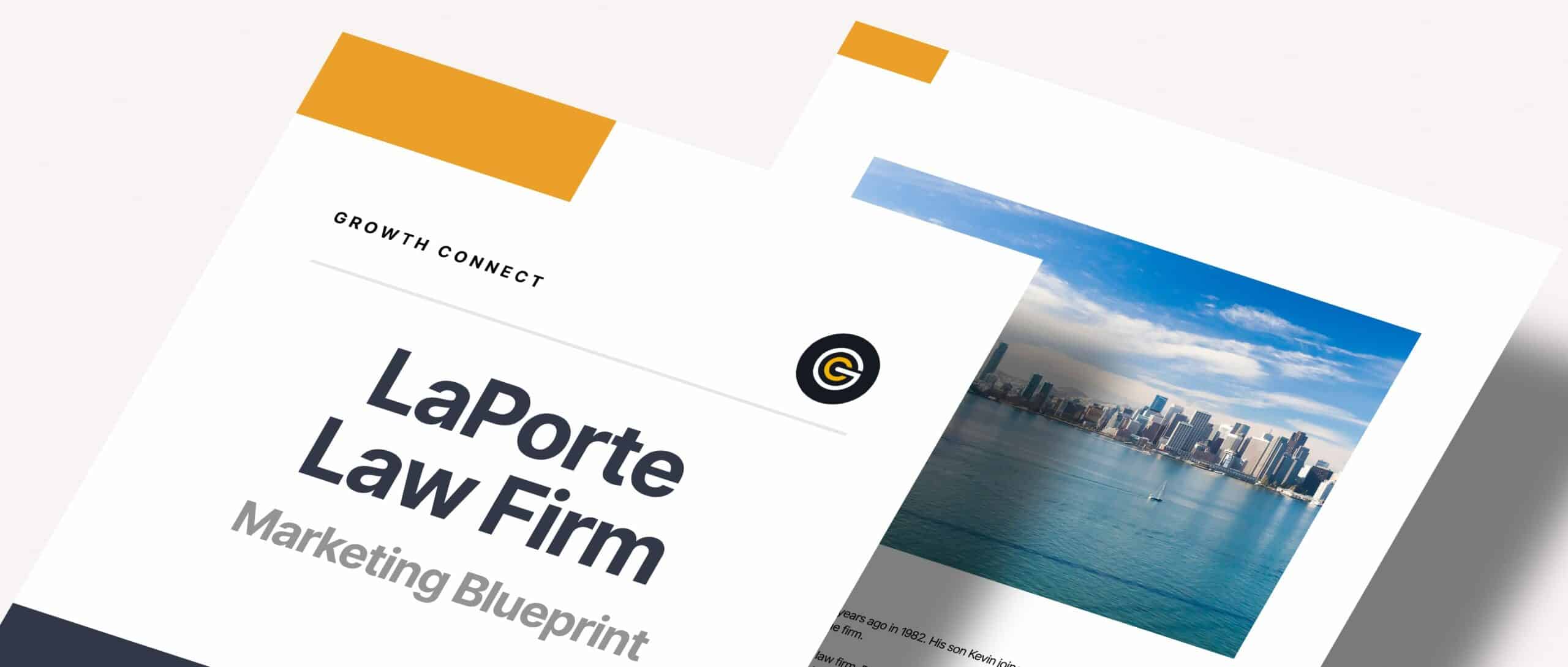 The first phase involved Sofiane working closely with Kevin during a six-week consultation period, where the main goal was to clearly define LaPorte Law Firm's target audience and pinpoint their exact needs, in order to develop a tailored marketing plan for the firm.
Although LaPorte Law Firm had a good understanding of who their general target audience was, they had never clearly defined separate target personas for whom customized narratives could be created. Doing this proved to be extremely useful for the website redevelopment phase that followed.
To establish the firm as a leader in the market, it was essential to know what the needs of their clients are in relation to what LaPorte has to offer. Sofiane and Kevin focused on this by delving into the customer personas who typically engage with the firm, including the entire customer journey that a potential client would go through in the event of a Social Security Disability claim. By looking more closely at the considerations of potential clients, including fears and motivations for taking action, they would be able to craft the firm's messaging in a way to suit the needs of LaPorte Law Firm's potential customers. The end goal is always to communicate with potential customers in a way that resonates with them, making a mutually beneficial relationship more likely.
In addition to defining the target audience, including detailed customer journeys, a customer narrative, and a pitch script, the marketing blueprint also provided thorough analysis of competitors' offerings, focusing on LaPorte's strengths in comparison to their competitors' in order to focus on that messaging. Based on a full SEO analysis, a strategy was also established for improved rankings online. 
With goals in place for a long-term growth strategy, it was now time for practical action and making the relevant changes to the website.
This phase involved transforming the website into a best-in-class legal website.
The main goal was to apply current website best practices, bringing the website into the present with a completely new design showcasing a sleek and modern look, including an eye-catching new home page. This was followed by the addition of several strategic pages containing a higher volume of relevant and useful content on each page, with segments on pages increasing from three to eight on average. Based on information gathered during the blueprint phase, additional service and location pages were added to address client needs. An in-depth FAQ section was also added to the website to further assist potential customers by addressing the most commonly asked questions directly on the website. The FAQ section also adds to the firm's credibility and authority as an industry leader. In addition to this, a chatbot has also been added to the site to tend to the increasing volume of inquiries.
We're really happy to keep investing in redesigning our site to fit our new strategy and getting more positive feedback and reviews than we've ever had.
With a fully optimized website in place, the next step was to implement the marketing plans and strategies, including working according to a quarterly marketing calendar and budget. The overall marketing strategy was based around a multichannel lead acquisition approach, with content marketing forming the main pillar of the strategy. To capture a higher number of quality leads, they continued to add strategic pages targeting specific audiences, new blog posts answering popular search queries related to the client business, a chatbot, webinars, and free lead magnets. 
SEO was also a key focus area for driving more users to the website. In addition to on-page SEO best practices to make the website more SEO friendly, off-page tactics were also implemented, such as link building in order to increase the firm's domain authority and support the content marketing strategy. 
Another aspect of the multichannel lead acquisition also involved optimizing the Google My Business profile of the firm, resulting in a higher volume of leads being captured from Google Maps. This is highlighted by the fact that LaPorte law Firm is now in the top three when it comes to map searches for related queries.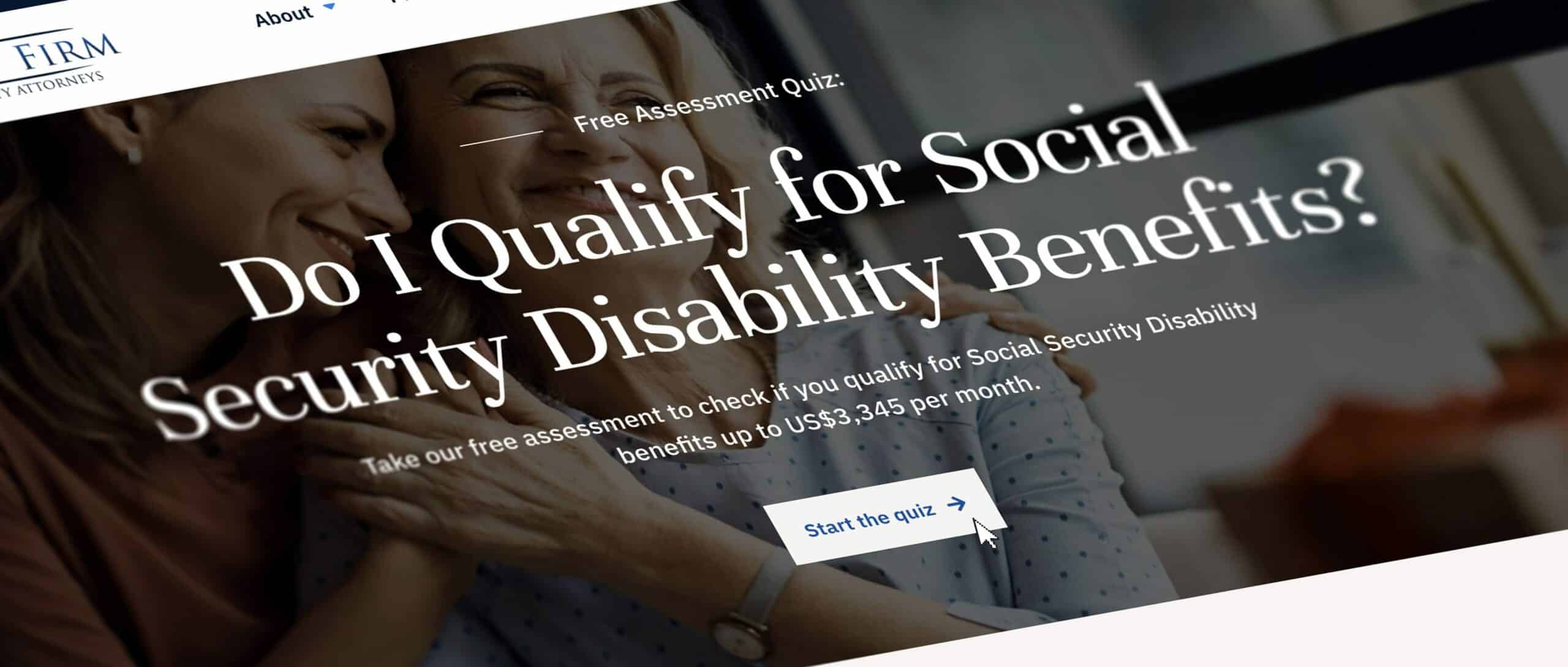 Furthermore, with the aforesaid copy optimization, redevelopment of landing pages, and enhanced SEO strategies, there was a 25% increase in leads across all acquisition channels. With the content and SEO marketing strategies bringing more and more leads and traffic to the website every month, Sofiane wanted to equip the firm to manage those leads better, leading him on the path to setting up a relevant CRM system. Once implemented, leads from the website will be automatically added to the CRM database where it can be processed, as opposed to labor-intensive, manual alternatives. 
By staying engaged with potential customers who have interacted with lead magnets but not yet contacted the firm, leads are fully utilized. Not only does this strategy keep the firm front of mind by providing useful information and suggestions to potential customers, but it also demonstrates the firm's dedication to building long-term relationships with clients who may potentially turn to the firm at a later stage in their disability claims journey. 
Most importantly, this phase of the three-step strategy helped LaPorte Law Firm to increase the volume of leads, the quality of leads, and their ability to be of service to those potential clients as best they can.
We reach out right away via email and phone to form submissions and are able to schedule new potential clients on the same day. The leads so far are strong!
Working with a fractional CMO has been a resounding success for LaPorte Law Firm. Highlighting the many successes can be best put into context when looking at the numbers and statistics when considering the increase in organic and direct traffic since launching the new website.
Below are a few of the key statistics highlighting this.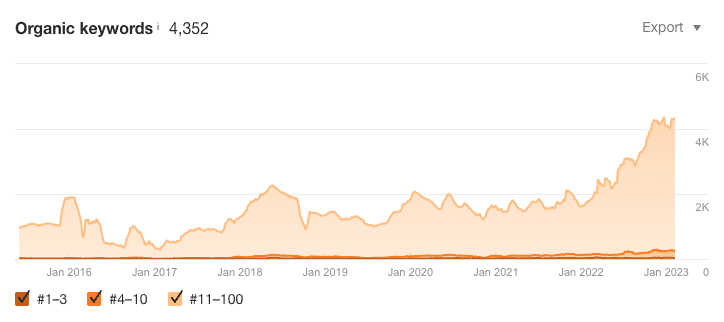 When looking at keyword statistics comparing July 2022 and January 2023, there is significant growth in the total number of keywords that LaPorte ranks for on Google, including
12 more keywords ranking in the top 3 positions 

62 more keywords ranking in the top 4–10 positions 

1,615 more keywords in the top 11+ positions
This is highly significant considering the difficulty to rank on the first two pages of Google for keywords.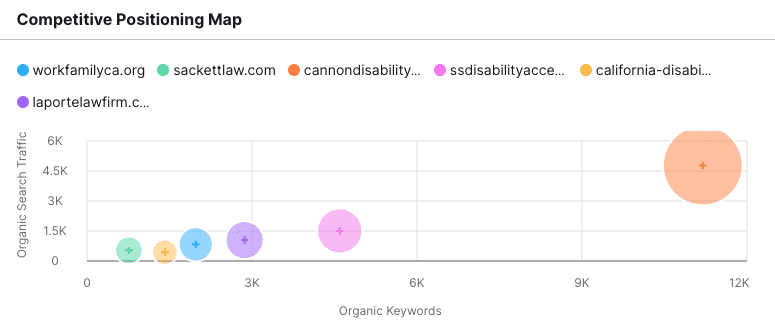 The Competitive Positioning Map shows the strengths and weaknesses of a competitive domain's presence in organic search results. Data visualizations are based on a domain's organic traffic and the number of keywords that it is ranking for in Google's top 100 organic search results. Further highlighting LaPorte's organic traffic growth is the firm's top 3 position in the competitive positioning map.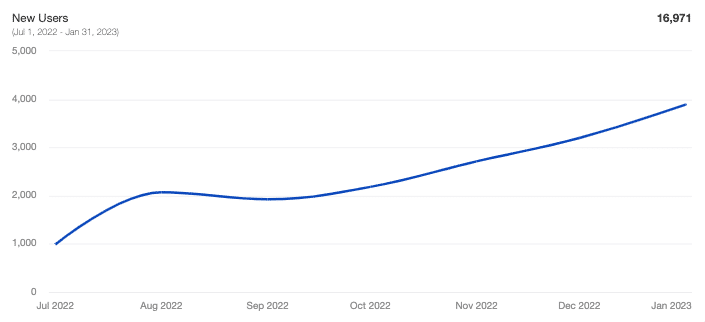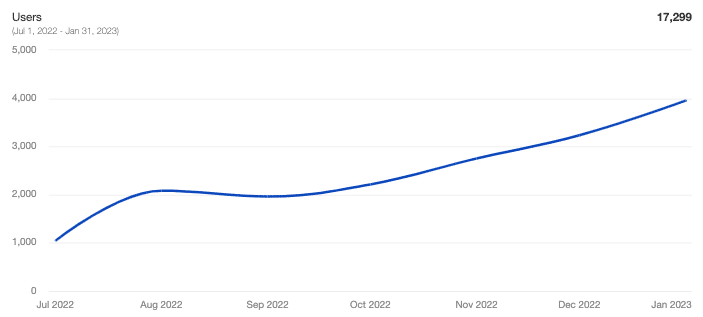 Looking at organic traffic for overall and new users over just a period of six months, a drastic improvement can be noted, with traffic quadrupling. 
Web form submissions have also grown significantly month on month, which is a testament to the success of additional content added to the website, such as the new SSDI assessment quiz that generated a large percentage of submissions, with 90% of the traffic being new.
In addition, based on monitoring results, all blog posts created during the six-month period following July 2022 have become the most visited pages on the website, emphasizing the power of well-planned content specifically designed for a target audience.
With all of the above in mind, LaPorte Law Firm has experienced remarkable results in only a matter of months, managing to completely rework the business strategy and turn things around for the firm. With the help of fractional CMO, they moved away from disorganized ad hoc marketing to a clear marketing strategy complemented by relevant tactics, a marketing budget, and a marketing calendar. As with many family businesses, the metric for success for LaPorte Law Firm is not purely based on graphs and statistics but also the level of customer satisfaction they provide. In this case, the positive feedback the firm has received from their clients speaks volumes.
One of our new clients did a lot of research before talking to us. He said he loved our website because it had a lot of great info. In fact, the actual reason for him wanting us to take his case was because of how great the website is.